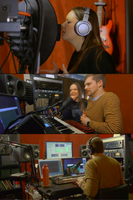 flowanastasia
electronic music vocalist / piano
Hey! This website is home for my sounds, lyrics, and merch. Thank you so much for listening and all your support ♥
Born in Ukraine, raised in Toronto, with releases on Critical, RAM, Shogun, Liquicity, Viper and more. I've been writing and recording vocals for electronic music projects (mostly DnB) for almost a decade.
Since 2017, all of my vocal projects are recorded and edited by Toronto producer Tyr Kohout in his studio, and we also perform music together live!
I grew up studying classical piano, sang in choirs, fell in love with jazz and hip hop, and went to business school.
You may know my previous artist name "Anastasia", which was officially changed to "flowanastasia" in 2021.
Email for inquiries: flowanastasia@gmail.com
PLAYLISTS WITH MY VOCAL SONGS
Thank you so much for listening ♥️